Agora Flexible Classroom makes it easy to embed interactive classrooms into Web apps. It enables you to develop rapidly and easily to enhance your education apps with features including real-time audio and video interaction, real-time messaging, interactive whiteboard, and other teaching tools.
This page shows you the minimum code you need to join a flexible classroom by using the Agora Classroom SDK.
Understand the tech
The following figure shows the workflow to join a flexible classroom.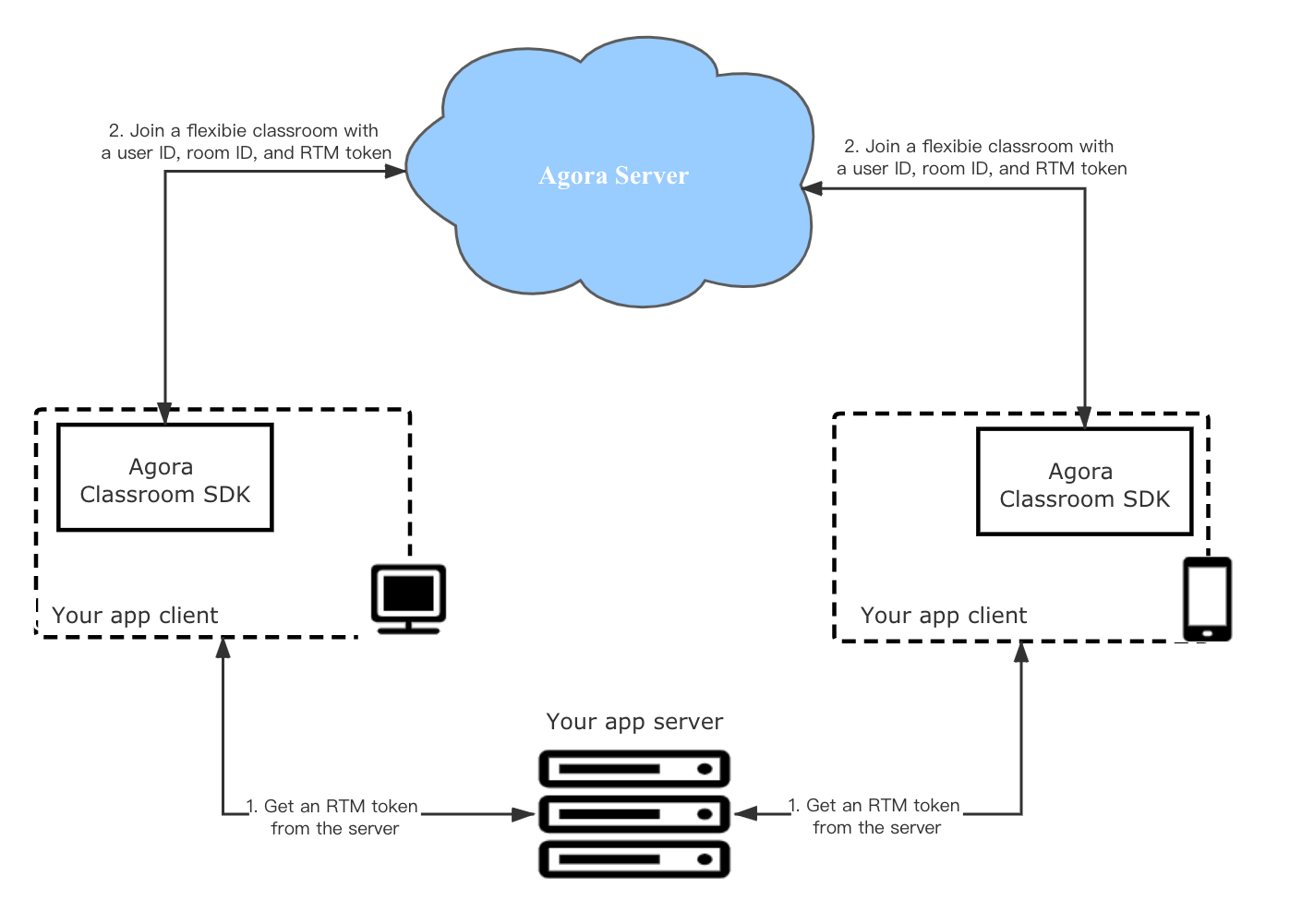 When an app client requests to join a flexible classroom, the app client and your app server interact with the Agora server in the following steps:
Your app client sends a request to your app server to apply for an RTM token.
Your app server generates an RTM token using the Agora App ID, App Certificate, and a user ID. For details, see Generate an RTM Token.
Your app client calls an API to join a flexible classroom with the following parameters:

The user ID: The unique identifier of a user. A string generated by your security system. Must be the same as the user ID that you use for generating an RTM token.
The room ID: A string for identifying a classroom. When your app user joins a flexible classroom, Agora automatically creates a classroom with the room ID.
The RTM token: A credential for verifying the identity of the user when your app user joins a flexible classroom.
Prerequsites
Before proceeding, you must have the following:
Launch a flexible classroom
This section shows how to integrate the Agora Classroom SDK into your application and call the methods provided by the SDK to launch a flexible classroom.
1. Create a basic Web project
Follow the steps to create a minimal Web project:
Create a new directory named agora_flexible_classroom.
In agora_flexible_classroom, create a index.html file, which contains both the visual user interface and the programmable interface that uses the Agora Classroom SDK to implement the app logic.
2. Implement the app logic
To implement the app logic,copy the following code into index.html, then replace appID and rtmToken with values that you get.
In the following code snippet, we do the following things:
Integrate the Agora Classroom SDK into your project through the CDN.

Call the AgoraEduSDK.config method to configure the SDK globally. For the detailed description of parameters, see the API reference of AgoraEduSDK.config.

Call the AgoraEduSDK.launch method to launch the classroom. For the detailed description of parameters, see the API reference of AgoraEduSDK.launch.

On the Web client, a user can join a classroom as the role of the teacher, student, or teaching assistant.

<!DOCTYPE html>
<html lang="en">

<head>
  <meta charset="UTF-8">
  <meta name="viewport" content="width=device-width, initial-scale=1">
  <title>AgoraFlexibleClassroomDemo</title>
  <script src="https://download.agora.io/edu-apaas/release/edu_sdk_1.1.5.10.js"></script>
</head>

<body>
  <style>
    #root1 {
      width: 100%;
      height: 100%;
    }
  </style>
  <div id="root1"></div>
  <script type="text/javascript">
    AgoraEduSDK.config({
      // Here pass in the Agora App ID you have got
      appId: "<your_app_id>",
    })
    AgoraEduSDK.launch(
      document.querySelector("#root1"), {
        // Here pass in the RTM token you have generated
        rtmToken: "<your_rtm_token>",
        // The user ID must be the same as the one you used for generating the RTM token
        userUuid: "<your_user_id>",
        userName: "teacher",
        roomUuid: "321",
        roomName: "demo-class",
        roleType: 1,
        roomType: 0,
        pretest: true,
        language: "en",
        startTime: new Date().getTime(),
        duration: 60 * 30,
        courseWareList: [],
        listener: (evt) => {
          console.log("evt", evt)
        }
      }
    )
  </script>
</body>

</html>
Test your app
Open index.html in your browser. You see the following page: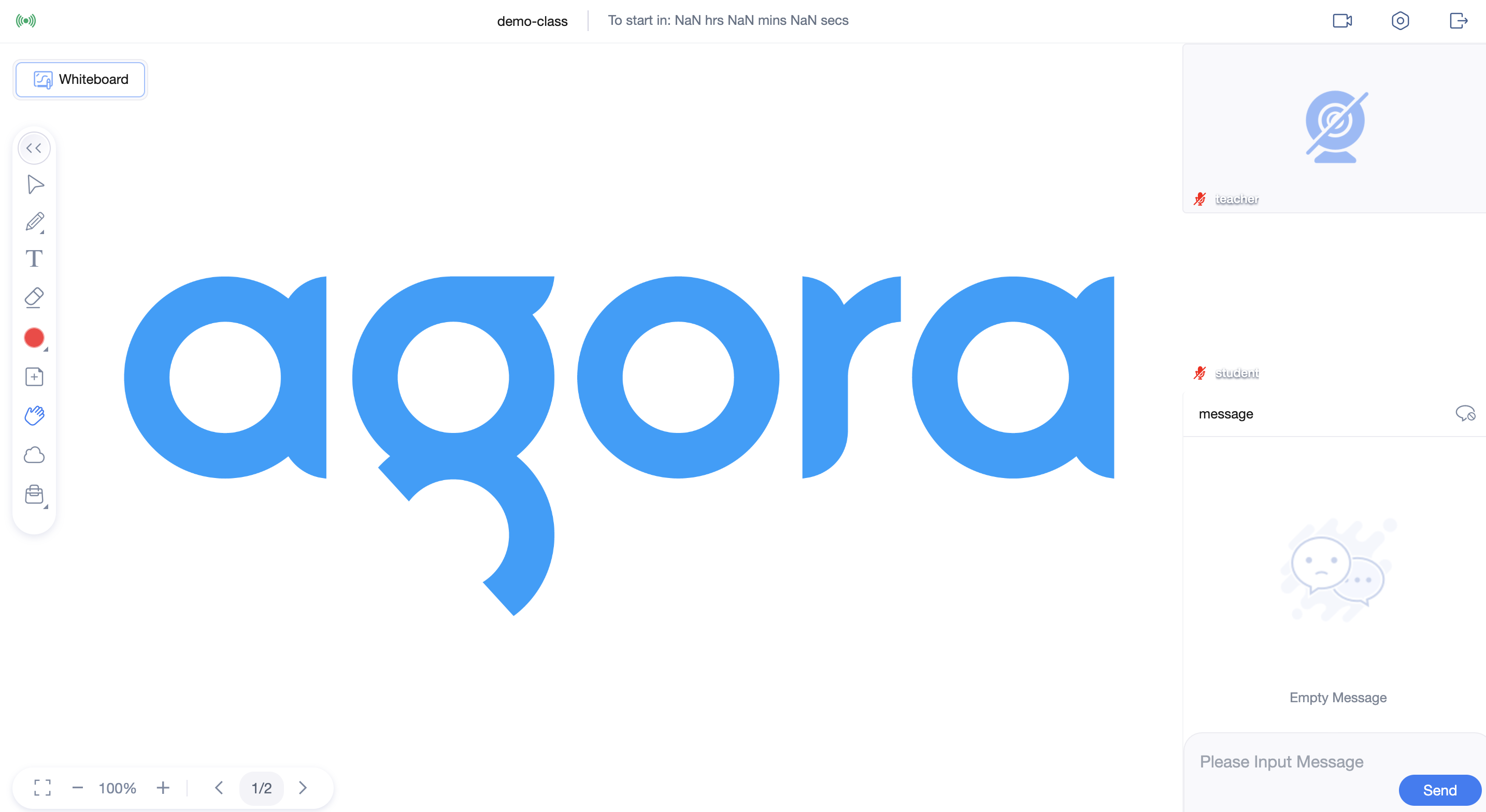 Next steps
Not satisfied with the default UI of Flexible Classroom? Refer to Customize the UI of Flexible Classroom to get the source code of the Agora Classroom SDK, customize the UI with UIKit, and build a Classroom SDK on your own.
See also
GitHub projects
You can also use the low-code solution provided by Agora to launch a flexible classroom.