Prerequisites
Development environment:
Cocos Creator v2.0.9 or later.
A certified Cocos Creator account.
An Android or iOS device for the mobile end.
No VPN connection.
Ensure that the browser for the Web end meets the requirements.
Integrate the Agora Service
Create a Cocos Creator project and enable the Agora Service in your project with the following steps:
Open your project with Cocos Creator. Choose Panel and Service in the drop-down menu. The Service panel appears on the right.

On the Service panel, select the game your just created and click Association.

When the association completes, the Agora Service panel appears in the Service panel.

Enable the Agora Service panel, and click OK in the pop-up window.

Follow the on-screen instructions and click open service.

Upon opening the service, the following window appears. Click console to go to Agora Console.

The Console automatically creates an Agora project. Click open the project and get your Agora App ID. You need to pass the App ID when initializing the RtcEngine.

Now you successfully enable the Agora Service for your Cocos Creator project and get the Agora App ID. Cocos Creator automatically downloads and configures all the Agora's depenencies.
Call the APIs to enable the audio function
You can now call the APIs to enable the audio function in your Cocos Creator project: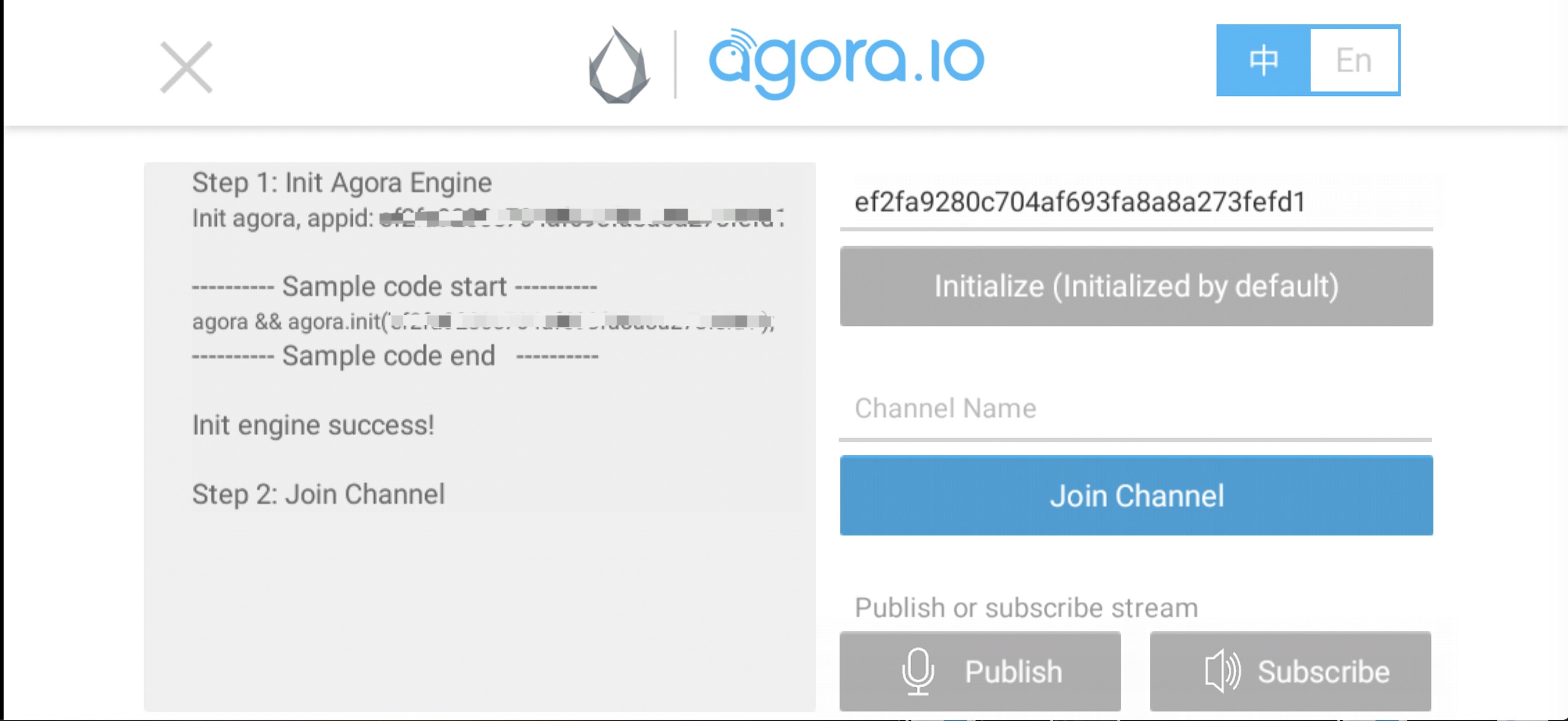 API call sequence
Enable the audio function with the following APIs:
Initialize the RtcEngine: agora && agora.init(appid);
Join the channel: agora && agora.joinChannel("", channel, "", 0);
Leave the channel: agora && agora.leaveChannel();
Register the following callback events in the agora.on method:
agora.on('join-channel-success', this.onJoinChannelSuccess, this);: Occurs when the user joins the channel.
agora.on('leave-channel', this.onLeaveChannel, this);: Occurs when the user leaves the channel.
agora.on('rejoin-channel-success', this.onRejoinChannelSuccess, this);: Occurs when the user rejoins the channel.
For more callback events, see the API reference for agora.on.
Sample Code
Agora provides an open-souce Cocos Creator Voice Demo. You can download and refer to the code logic in the sample code.
API reference
The JavaScript APIs provided by Cocos Creator only covers major functions. For more advanced functions, see the full API reference documents on other platforms.